tcVoicePicking: The voice picking software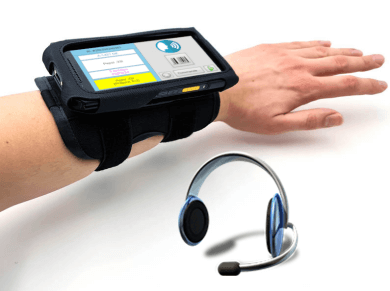 tcVoicePicking is the voice picking software of the warehouse management system «Toucan-WMS». It is a hands-free mobile application that guides the operator through the picking process by voice. The operator can communicate with the application also by voice in order to have both hands free.

tcVoicePicking is a multimodal voice picking solution that combines speech recognition and voice synthesis technologies with the use of the touch screen and barcode reader of a radio frequency terminal. To do this, the operator is equipped with an Android terminal placed on his forearm and a headset equipped with a microphone. The operator can validate his actions at any time by voice or by reading barcodes.

tcVoicePicking uses a speech recognition and voice synthesis system based on artificial intelligence (AI), the main advantages of which are that it does not require prior recording of the user's voice profile and is only slightly dependent on the ethnic origins of employees and their accents.

The solution is currently available in 4 languages (French, English, German and Italian). The software can be enriched with new translations on request.


Principle of voice picking
The principle of a voice order picking system is to manage man-machine exchanges solely by voice:
The operator receives an audio message telling him where to go, the reference and the quantity to pick


When the operator arrives at the indicated location, he dictates the location control code so that the system confirms that it is the right location


The operator then indicates by voice the quantity picked up


The software validates the picking and indicates to the operator the data of the next item to pick and this until the complete preparation of the order


Why a multimodal voice picking system?
While a solution based solely on voice recognition and synthesis greatly reduces preparation time, it does not guarantee the absence of errors: validating the location by voice does not prevent items from having been previously placed in the wrong place, validating the quantities picked by voice does not prevent an error of attention by the picker who may say he has prepared 5 items when he has only picked 4.

In addition, voice technology requires a simple process to prevent the operator from getting lost in the dialogue with the machine, and does not allow for the input of additional data such as batch numbers, serial numbers or expiration dates.

To solve these limitations, tcVoicePicking combines both the specific methods of voice picking and the functions of the tcPicking app, which allows manual or barcode data entry.


Main features of tcVoicePicking :
Voice identification of the preparer
Automatic loading of the details of the order to be prepared
Definition of the items picking sequence / optimization of the preparation path in the warehouse
Voice announcement of the item to be prepared: reference number, description, quantity, location in warehouse
Voice confirmation of location
Voice confirmation of collected quantities
Possibility to enter additional data when picking an item: Expiration date, batch number, serial number, pallet/package traceability (SSCC number), weight, etc...
Immediate voice announcement of preparation errors during picking
Possibility of suspending the preparation of an order in progress in view of a later resumption
Possibility to force the validation of an order in the case of an article not available in stock
Audio system to assist the user during the process
Automatic update of inventory status